6
July 3, 2013 by J.C. Lillis
It's been a good week so far. First I discovered the existence of Lego Game of Thrones, and then one of my favorite people on Twitter released a new YA book that I can't wait to read. Rachel Carter's THIS STRANGE AND FAMILIAR PLACE is out now—and because she's all kinds of awesome, she's giving away a signed copy right here on the blog, along with a bunch of other goodies! Read on for the details and an exclusive excerpt.
The lowdown: THIS STRANGE AND FAMILIAR PLACE is the second book in Rachel's sci-fi time-travel trilogy—the first one was SO CLOSE TO YOU, the story of a 1940s teen trying to unravel the mysteries of the Montauk Project. The new book has another swoonworthy cover, and if you like thrilling but thoughtful time-travel stories, this one looks like a must-read.
Here's the synopsis and a peek at the cover: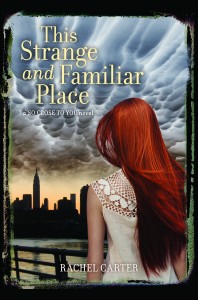 These are the things of which Lydia is now certain:
The Montauk Project has been experimenting with time travel for years.
The Project's subjects are "recruits" from across time. Recruits like Wes, Lydia's ally, friend, and love.
The Project is now responsible for the disappearance of two members of her family….
And they're coming for Lydia next.
This thrilling sequel to So Close to You explores how far we'll go to save the people we love—and what happens after you change the future.
And here's an excerpt, which will definitely excite fans of Lydia and Wes:
***
Soon we are in the subway tunnel, walking back toward the station. We reach the complicated point where the subway tracks cross in a mess of rails. I watch Wes again, copying where he steps. I've almost reached him when my foot catches on an exposed rock and I begin to fall. I raise my hands instinctually. I'm about to smash into one of the tracks, when I feel myself come up against something hard. Wes's arms close around my body and he pulls me to the side of the tunnel, my back pressed to the rough wall.
I wonder why he doesn't let go, until I feel the walls start to vibrate. There's a low grating noise that gets louder and louder, accompanied every now and then by a long screech. Suddenly a white light is facing us, coming closer. A warm wind picks up and then the train is on top of us, speeding past, faster than I could have imagined, loud and bright and so close that I could touch it if I reached out.
Wes tightens his hold on me. I feel one of his hands on the back of my head, pulling me into his chest. Both of my arms are around his waist, my hands resting on his cotton blazer. He shifts and his fingers weave through my hair, tugging on it gently until my head is tilted all the way back. His face is distorted in the flashing light of the train, but I can see his eyes—so black they look like liquid. He leans in. I keep my eyes open, locked on his, closer and closer. He hesitates for a second, only an inch or two away. I can feel his fingers hard against the back of my head, and I bite my bottom lip. His gaze drops down at the movement, and then his mouth is on mine.
I grip his jacket tightly in my hands and press closer to him. He deepens the kiss, and I feel his tongue touch mine. His hand frames the side of my face, fingers lightly tracing my cheek, and I can't help but sigh against his lips.
We kiss as the train rushes by: the screaming noise, the interior lights of the cars, the passengers standing against the doors, holding newspapers and wishing they were already home. We kiss as sparks kick up when the train turns the corner, yellow spots of light that die out before they can even reach the ground.
It feels like both a second and a hundred years. We finally come up for air, gasping a little, and I realize that the subway tunnel is dark and quiet again. Wes must realize it too, because he pulls away. I stare up at him, not sure if my ears are ringing from the passing train, or from the feeling of being pressed against him.
***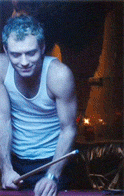 OKAY. So since you're gonna want to read the rest of the book that wraps around that scene, sign up for a chance to win Rachel's fabulous Time Travel Pack Giveaway. The winner will get a signed paperback of SO CLOSE TO YOU, a signed hardcover of THIS STRANGE AND FAMILIAR PLACE, signed bookmarks, and some fun extras. (U.S. entries only, please.) Just take a second to enter below and include your email address so I can contact you if you win.
GOOD LUCK, and happy release week to Rachel! (Go follow her on Twitter, too—she'll make y'all smile.)
Category Uncategorized | Tags:
---