0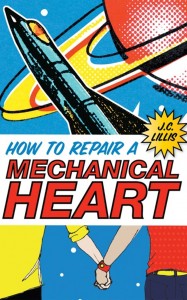 I'm obsessed with soundtracks. As soon as writing fatigue sets in with a project, I always do the soundtrack to jumpstart my love for the characters again. I try to make them hang together in some way; this one's mostly New Wave and synth-pop. I wanted an electronic feel to match the robot/mechanical heart theme and reflect Abel's love for 80s pop culture (which he never experienced directly, so to him it's all Rubik's Cubes and John Hughes and cool low-tech videos with men in red plastic hats).
Here's the How to Repair a Mechanical Heart playlist. (If you haven't read the book yet, it's a little spoilery.)
"Living in the Real World" | Blondie
In my head, there's a movie version of HTRAMH. The opening montage is set to this song. Brandon irons his Castaway Planet t-shirt and repacks his suitcase; Abel makes out with Kade and flings clothes at his travel bag. I wanted a Blondie song because they're Abel's go-to band, and this one fit, with its frantic let's-start-something energy and the abandoning-reality-for-fantasy theme.
The chorus is Abel's ringtone. Brandon's totally sick of hearing it.
On the jukebox when the boys are at The Edge of Heaven bar (named after "The Edge of Heaven" by Wham, which almost made the soundtrack before I decided it would make a better bar name).
"Love Surrounds Us" | Kamera
Abel loves these guys because they're kind of a Depeche Mode reboot. Brandon can take or leave them. You didn't see this, but on the trip they got into a huge snit when Brandon rudely shut off this album and put on Damien Rice, and Abel could not stop giggling about "The Blower's Daughter" being an actual song title.
This is a forgotten 80s gem that was underappreciated in its day, mostly because Regina got dismissed as a Madonna photocopy. It's in the background while Brandon and Abel are smoking Augie Manners' Spaceman Straws and communing with the Abandon girls.
Doing each other's makeup before the Castaway Ball. It's really sexy in my head.
A remix of this song is playing at the Castaway Ball when they first open the doors. I love the chorus; it's just exactly right for Brandon at this point in the story, when he's ready to say "no more" to everything holding him back and KISS THAT ANDROID.
"Love. . .Thy Will Be Done" | Martika
Brandon and Abel were going to have their first kiss on the dance floor at the Castaway Ball, before I ruined it for them and banished them to the elevator. This was the song I had picked out. I've loved it since I taped it off the radio in 1991. It's one of those songs that could be about God or a new relationship, so it's basically the exact love theme Brandon needs at that moment.
"Strange Powers" | Magnetic Fields
When Brandon's imagining an Abandon fanvid of their week of new-boyfriend fun, what I'm hearing in my head is this fizzy ode to joy by genius grouch Stephin Merritt, who rhymes Coney Island with prostitutes in Thailand and thus negates any suspicion that the fine art of songwriting is dead. (In the scene where Abel drags Brandon to the carnival, I wrote in a reference to blue cotton candy because of the line "our lips blue from cotton candy/when we kiss it feels/like a flying saucer landing.")
"Heartbeat Song" | Futureheads
One of Bec's favorite songs. Played in the RV on their way to Salt Lake City while B&A are eating egg-and-cheese scrambles in their I GOT LUCKY IN VEGAS baseball caps. I defy anyone to listen to this song and not feel 14% happier (conservative estimate).
"Mexico" | Jump Little Children
A lot of these songs are from Abel's iPod, but this one is from Brandon, who's all about the strummy sensitive male singer-songwriters. It's just this life-ruining breakup song. Nothing is sadder than saying "I won't let you go" to someone who's all but gone, and is probably going to take your favorite records just to be a dick.
HTRAMH originally ended with one more vlog entry. This song was going to be in the background. I cut the scene but didn't delete the song from the soundtrack. Abel will totally leave before Bran's mother wakes up in the morning.
So in the movie version of HTRAMH in my head, this is the song that plays over the credits. It's dark with a vein of hope. It's probably about alien abduction or something completely bonkers that will never occur to me, but for some reason it fits here. I think of Brandon every time I hear the line "I'm fine, but I hear those voices at night sometimes."
Back in spring 2009, when I was batting around an idea for a book about two fanboys on a road trip, I was completely obsessed with this live performance of "Future Love". When I sat down to flesh out the sci-fi show-within-the-book, the first character I thought of was an android with translucent blue skin and a heart that glowed blue, just like the one inside the tall plastic man used as a stage prop here. And from the Department of Obvious Inspirations, here's this line from the first pre-chorus—if only I could reboot my mechanical heart, I'd think clear.
Any songs remind you of Brandon & Abel? Share 'em in the comments below!