0
(*A longer version of this post appeared on the PubHub blog in April 2014. If you'd rather read it there, I won't be mad, 'cause they're awesome.)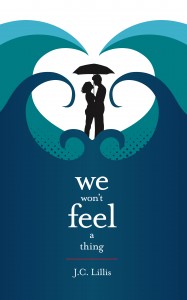 My husband told me someone on Goodreads shelved We Won't Feel a Thing under "teenage hipster card" (compliment? not? *shakes Magic 8 Ball*), so I'm worried I've created a hipster-doofus playlist. I promise I'm not a real hipster. Most of my clothes are from Target and I listen to Pat Benatar unironically.
Here goes:
If there was a WWFaT movie, this would be the opening-credits song. The lyrics sum up where the characters are at the beginning; that whole idea of building this safe, innocent kingdom with someone. Rachel and Riley are each other's private hideaway, but there's a sense that Rachel's growing out of that faster than Riley.
"I'm Sorry I Love You" | Magnetic Fields
Let's pretend it's a work of art/let's pretend it's not my heart. This is a great denial song. Almost everyone in the book is in deep denial, so it fits.
"Hiding 'neath My Umbrella" | God Help the Girl
I associate this song with David, the leader of the WAVES program that Rachel and Riley sign up for so they can stamp out their unwanted attraction. I think of this song as a little dialogue between him and his fears about love.
"Apply Some Pressure" | Maxïmo Park
Rachel's obsessed with this (fictional) band called Thirsty Herd—she puts them on when she needs a release. In my head, their music's aggressive and snide, with a bratty intelligence. This song was a good stand-in musically, and the lyrics really get at the jagged, twitchy, reckless side of wanting someone you can't have.
I hear the opening flourish and the wheedly synths, and I'm in the lobby of a gently run-down inn off the California coast. It's called the Mermaid's Mirror. The chandeliers are shaped like tentacles and on the seventh floor, there's a mysterious room that's been shut up for years.  In chapter 5, you find out what happened there when Rachel and Riley were nine, and how it set their whole story in motion.
"Et Pourtant" | Charles Aznavour
I first heard this song in high school French class. My friend and I used to sing the way the gods intended: in horrific French accents, with the backs of our hands pressed theatrically to our foreheads. Rachel and Riley hear it in a French restaurant where they do Step Two of the WAVES program and meet a nosy fake-French waiter who tragically serves them aphrodisiacs. (That is actually what happens.)
"Heads Will Roll" | Yeah Yeah Yeahs / "You Can Call Me Al" | Rough Island Band
In Step Three of WAVES, Rachel and Riley put these special goggles on and have separate visions of their ideal futures without each other. I associate these two songs with the personas they try on in the visions. I'd love to hear a mashup of this. It'd be like a duet between a Disney villainess and a shaggy artist waiting in line at a taco truck.
"Love is an Arrow" | Aberfeldy
I wrote the first version of WWFaT back in 2003, and this is the only song that survived the original soundtrack. If I could've used it in the book trailer without selling my left kidney to Aberfeldy, I totally would've.
In Step Four of WAVES, there's a scene that tries to simulate the way a popular song—even one that annoys you at the time—can become this magic memory charm that recreates how you felt at a specific time in your life. I had to make up the song, which was really fun. It's called "Bleed My Love," but it's inspired by "Bleeding Love"—I played the song over and over while I was writing the scene and used it as a blueprint for my description of the vocals and music.
"The Union Forever" | White Stripes
There's one part where Riley's really mad, and he's been watching a bunch of his dad's bad action movies and trying on this tough-guy persona that doesn't fit him at all. I imagine him blasting this song and singing at mirrors.
"Dancing in the Moonlight" | King Harvest
This is played at an unhappy wedding reception by a band that's having a Buckingham-Nicks-style interpersonal meltdown. They do a version of this easy-breezy celebration song that gets increasingly harrowing as it goes along. Everyone in the book is pretty much falling apart at this point.
"I'll Be Your Mirror" | Velvet Underground
Lots of mirror imagery in WWFaT, so I couldn't leave out this song. It's weird and awkward and sweet.
"The Richest Kids" | This Is Ivy League
Every soundtrack needs a happy-montage song, right? This one is all about letting go of the things that keep you down and hold you back from happiness, so it's just right for WWFaT.
"Butterfly Nets" | Bishop Allen
It's like this song was commissioned for the end of the book. Like, if you don't want to know how WWFaT ends, don't listen. (If you do listen, buy tissues first.)