6
October 23, 2012 by J.C. Lillis
When a recent archaeological dig in my mom's basement uncovered three giant boxes of old TV Guides, I leapt at the chance to own 500+ volumes of American history. It's been over 48 hours and I haven't regretted it once, and not just because I have a weakness for cultural touchstones that doubled as coasters.
TV Guide teems with hidden treasure. It whispers lost secrets about The Way We Lived Then. I spent at least eight minutes comprehensively dissecting this Mary Tyler Moore issue from March 1993, and here are the most important historical facts I learned—about the Guide, and about humanity itself.
1.)    TV Guide answered questions no one else would touch. Specifically, the regular ASK TV GUIDE feature on page 1 was a repository of critical information for the TV-viewing public, providing succinct and timely responses to the era's most pressing questions:

2.)    Polka-dot gloves were once a thing. I was ahead of the fashion curve in the 90s, having worn my dad's moldering flannel shirt in public a full five weeks before grunge made it okay, so I was crushed to find out that a polka-dot-glove fad had somehow slipped under my radar. Modeled here by Kirstie Alley and nicely offset by an extravagant outburst of hair, these gloves make me want to turn back the clock and do right by my forearms. Bathroom breaks at school dances would've been so much nicer that year, if only I'd had a pair of these to sob into.
3.)    Dave Coulier is a gentleman.  The Alanis thing dented his rep a little, but check this out: He probably could have positioned his hands directly over Tawny Kitaen's breasts in this promo shot for America's Funniest People. I mean, the show was moving to 7:30, a time when most people were loading their dishwashers or popping Ace of Base in their Discmen for a post-dinner speedwalk, so the impulse to court attention with a little light groping would've been understandable. But Gentleman Dave demurred and aimed two inches higher, with all the grace and restraint we'd come to expect from America's Favorite Bullwinkle Impersonator. One timeslot to the left, Giant Bob Saget beams approval.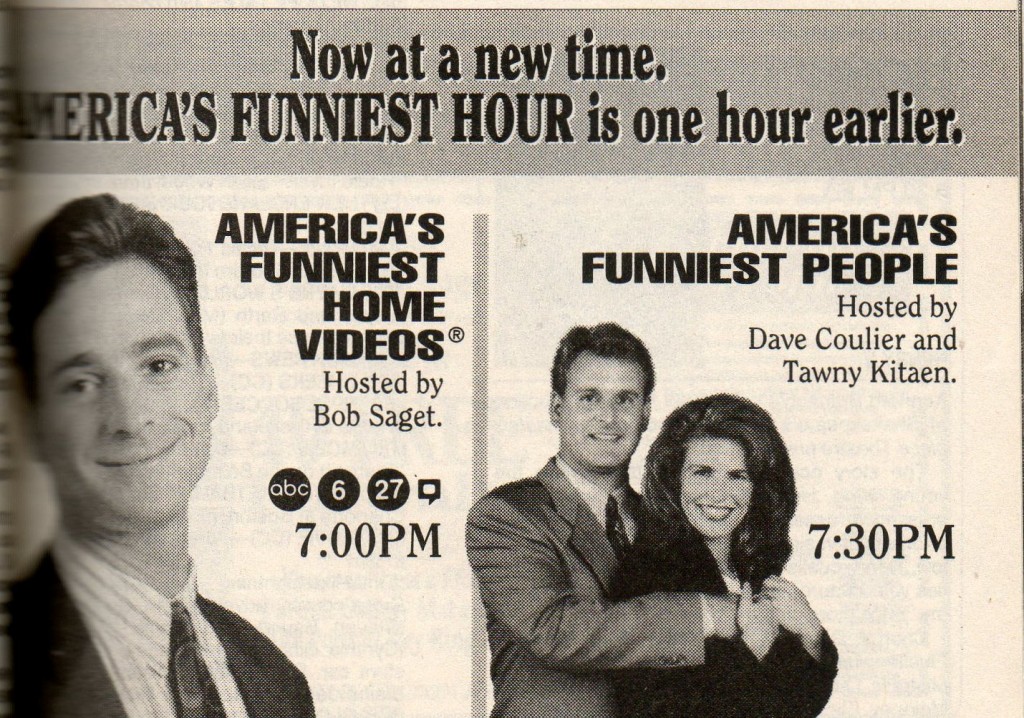 4.)    Virgos are in deep shit. Or at least they were the week of March 13-19 in 1993. Most of Patric Walker's horoscopes on page A-19 are pretty standard: vague stabs at astrological relevance ("your Sun is brilliantly aspected by Pluto"), followed by generic cheerleading ("spread your wings," "live and let live," "breakfast on hope each day"). But if you were a Virgo in March of '93, holy crap did Patric Walker have some plain talk for you.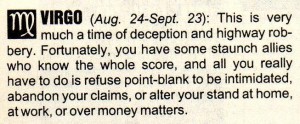 Oh, is that all I have to do? If I'm a Virgo in spring of '93, I'm thinking now's the time to take that trip to Pago Pago I'd been mulling over, before the deception and highway robbery set in. Either an alarming percentage of Virgos were deeply entwined with the crime underworld back then, or Patric Walker had an upstairs neighbor whose laserdisc of The Grifters was on permanent replay.
5.)    TV Guide forged connections. In the days before match.com, the TV Guide Letters Department was used by thousands as a de facto dating service.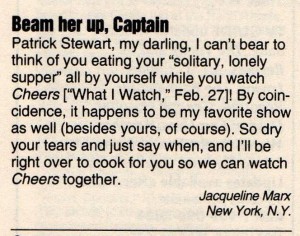 IMDB tells me that Patrick Stewart has been married to ladies named Wendy and Sheila, so I'm sorry to hear that things didn't work out with Jacqueline, especially since they had so much in common. IMDB also tells me he is a "self-confessed huge fan of Reba McEntire," so maybe this is what drove them apart. There was a fight, maybe, about Reba's cover of "The Night the Lights Went Out in Georgia." Things were said. Plates were broken. Jacqueline took the redeye home that night, leaving Patrick with nothing but the melancholy tinkling of the Cheers theme to remind him of what could have been.
So do you remember old-school TV Guides? The ones that were about the size of a Kindle, with newsprint pages that looked like the phone book? If there's a cover you remember from 1985-1996 or thereabouts and you'd love to see it again, let me know: I may have it. And I will scan it, JUST FOR YOU.
Category Uncategorized | Tags: vintage tv guides
---