11
March 26, 2013 by J.C. Lillis
1. First, get yourself some incredibly convincing candy rocks from the local Amish market, because the Amish child apparently learns Pebble Forgery at her mother's elbow right after the tutorials on whoopie pies and lard cakes. (If you don't have a local Amish market, aquarium rocks will do in a pinch. Kids need roughage.) Dye the frosting a weird unnatural green and try not to wonder what's in those teeny squeezy bottles of food coloring, besides the possible end to your daughter's future bid for the honors program.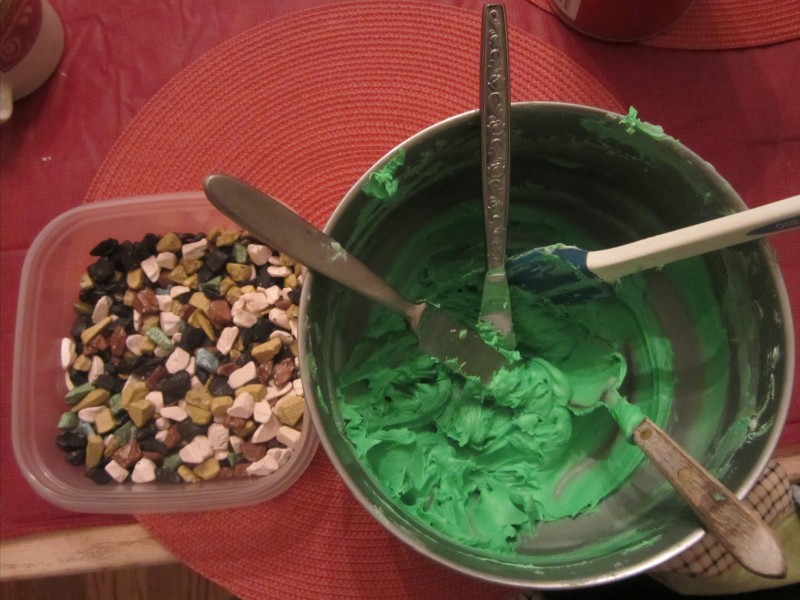 2. Bake and frost two 9 x 13 cakes and one 8-inch round. If you can, acquire a lovely retired mother with decades of extensive cake experience. This will ensure that your cakes pop out of the pan looking like actual rectangles and not the aftermath of a Cookie Monster skit.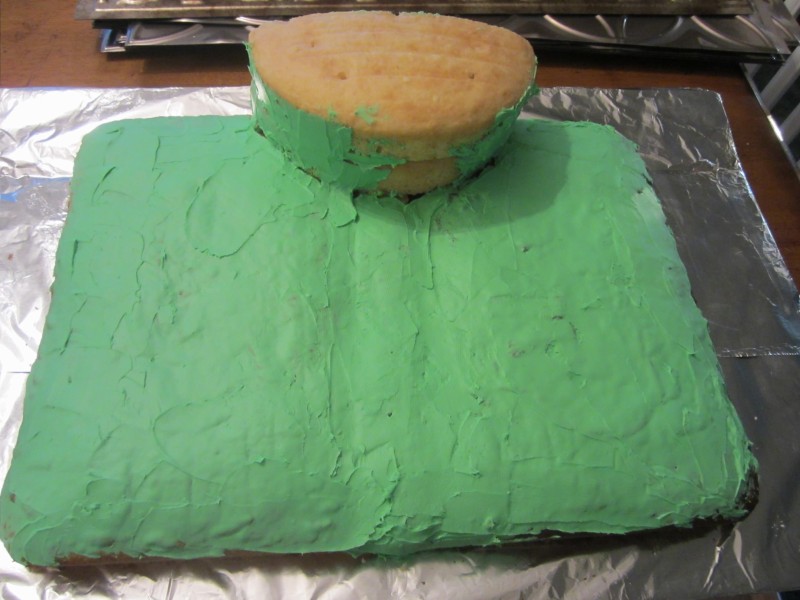 3. Next, crush up a crapload of Nilla wafers for sand and Oreos for dirt. Restrain yourself from funneling the entire bag of crumbs into your mouth and chasing it with a giant blast of Reddi-Wip.
Arrange artfully.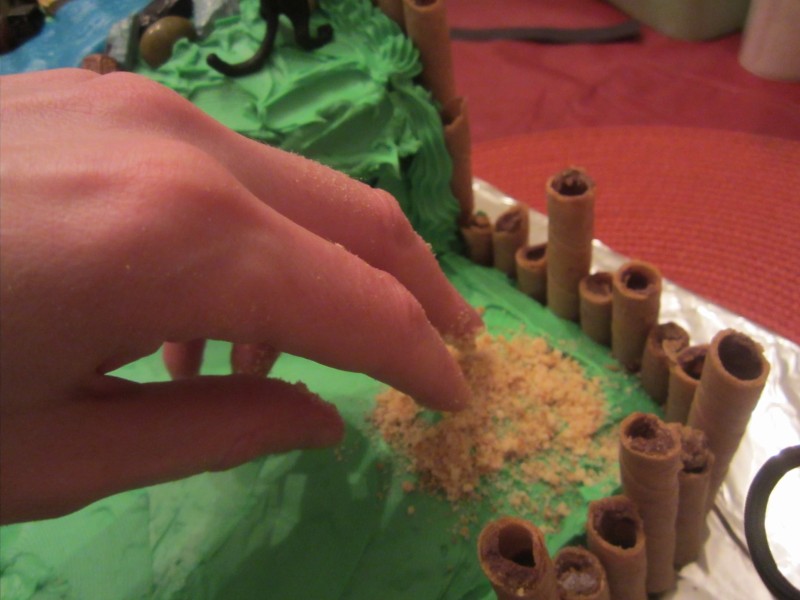 4. Spend eighteen hours sculpting edible animals if you are the type of artist who can tolerate seeing your masterworks demolished by six-year-olds, who will gnaw the heads off your marzipan giraffes and abandon the bodies in a puddle of Rocky Road. Otherwise use plastic animals. Arrange them like the world's most demented zoo planner, because this is YOUR zoo and you can totally stick the gorilla in with the camel and pretend they're married.
Make sure the elephant gets a good spot, because ELEPHANTS ARE BADASS.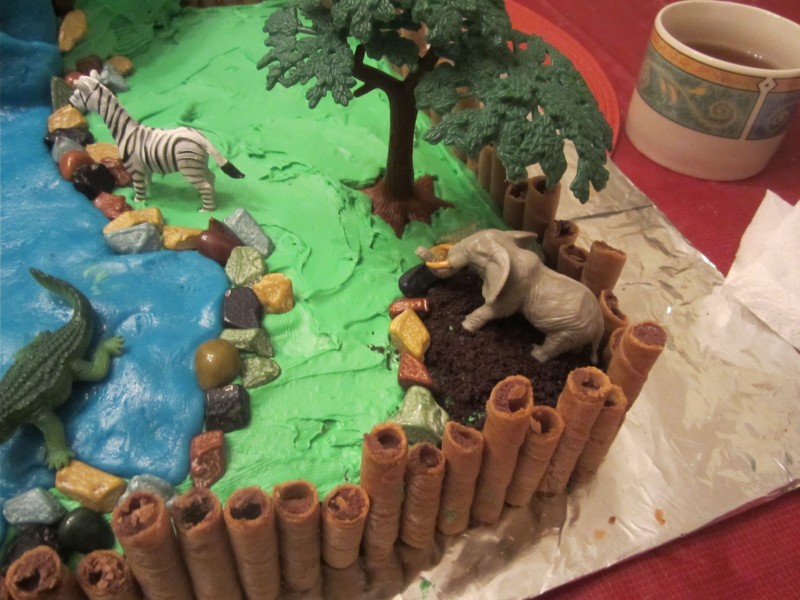 5. Stretch a hunk of fondant into a waterfall, press it into place, and outline with candy rocks. Briefly strut around the dining room table feeling like Buddy from Cake Boss, despite the fact that you've shamelessly plagiarized from the billion other Pinterest geniuses who thought of using Piroulines for bamboo.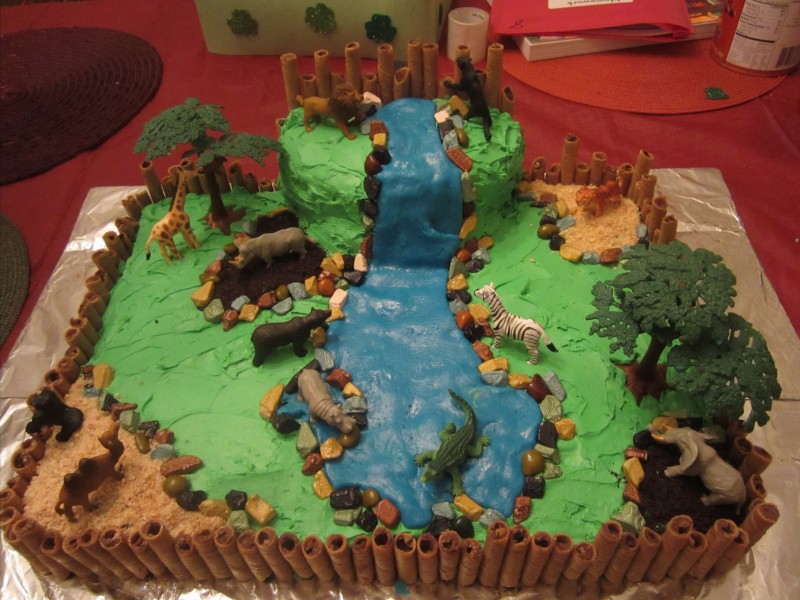 6. Make a cute little last-minute birthday sign and fist-pump when it slots neatly into the two tallest bamboo cookies. For one moment, feel like a total BAMF of a parent and excuse yourself for all the times you were plotting a scene in your head while your kid was trying to tell you I CAN MAKE A NUMBER 8 WITH MY FINGERS.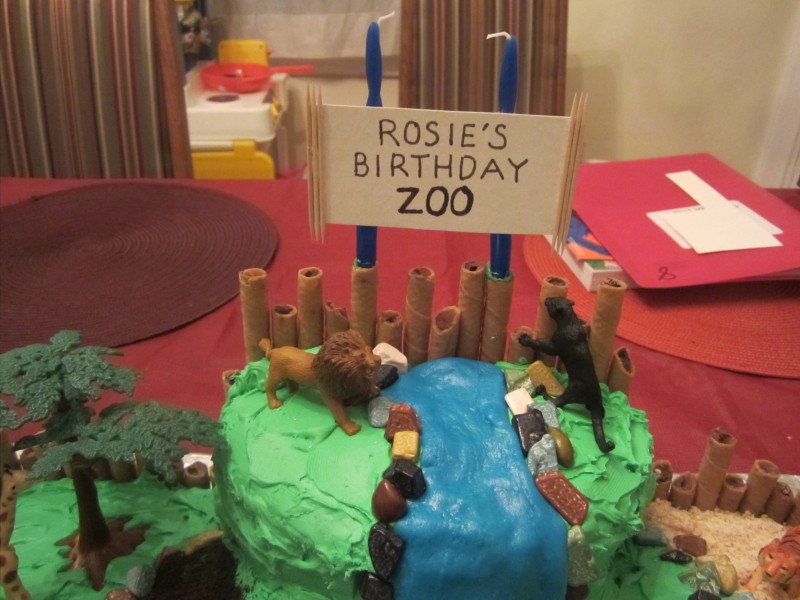 7. Avert your eyes as the cake knife makes its first cruel incision. When it's down to a lonely nub (see below) and the animals have all been displaced, put on some Sarah McLachlan and ruminate about the transience of all beautiful things. Then stick Piroulines on your fingers and pretend you have super-long pinkies.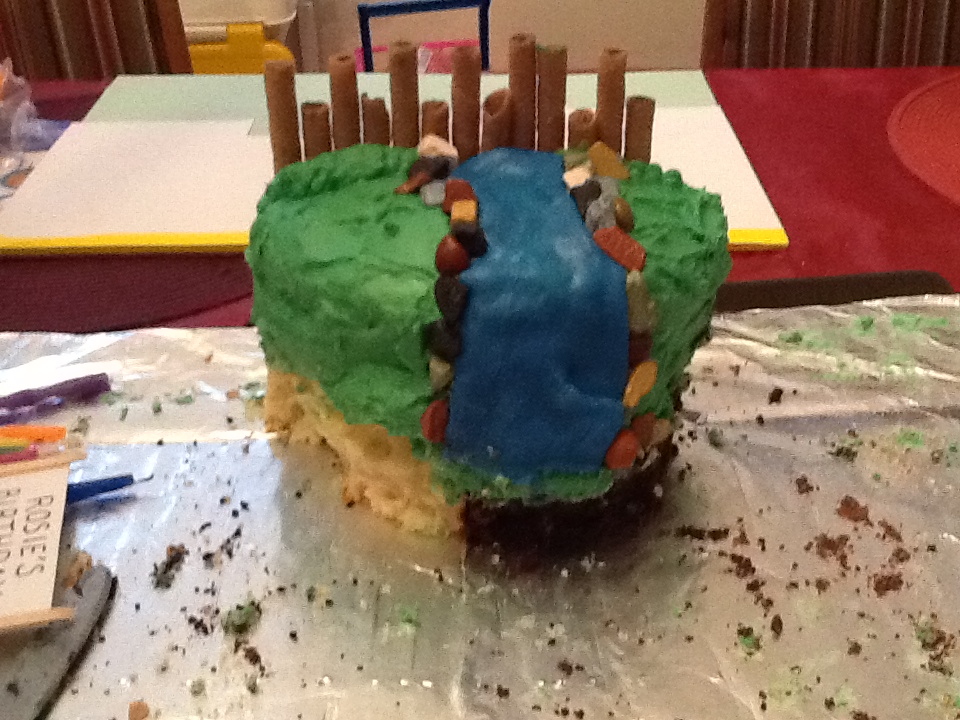 8. Relax. Tell yourself that wasn't so hard. In a sugar-fueled stupor, make grand plans to mark every special occasion with themed pastries. Laugh yourself to sleep. Wake with a faintly green tongue, Oreo crumbs under your nails, and the imprint of a plastic rhino on your face.
Category Uncategorized | Tags:
---