11
November 13, 2012 by J.C. Lillis
Did you guys know I'm an art historian in my spare time? Because I totally am. Today I'd like to introduce you to a lost masterwork of the late twentieth century, a rare piece with such populist appeal and critical cachet that for several brief months in the fall of 1971, it was sold in the pages of Life magazine.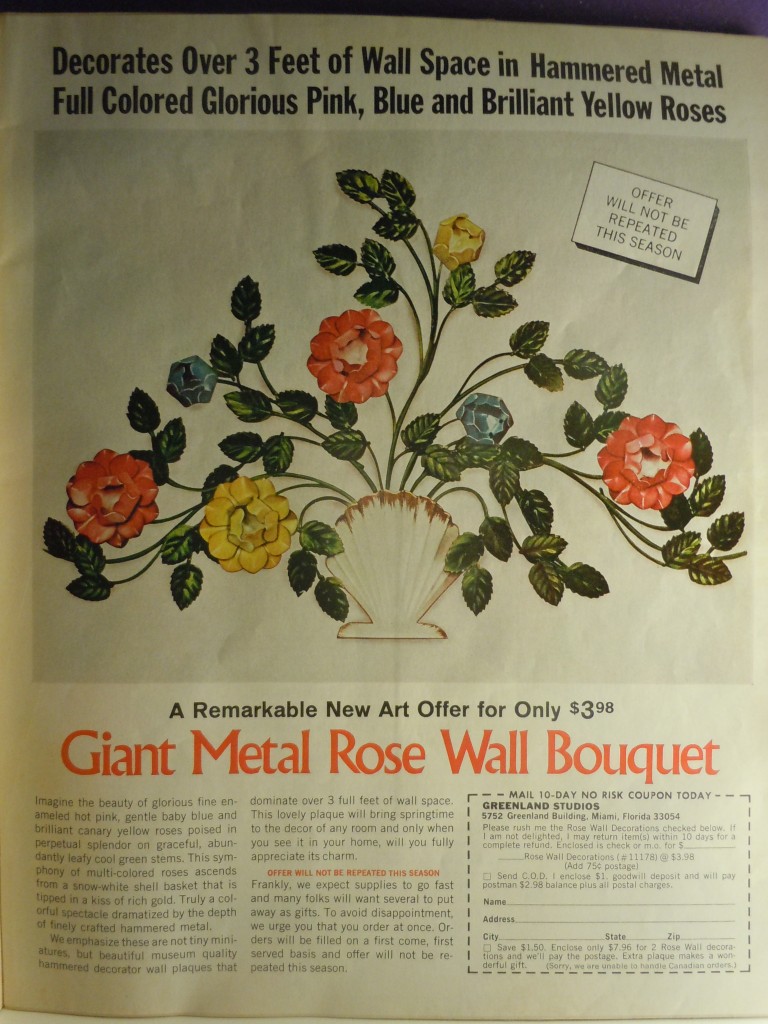 I'm not old enough to remember when Giant Metal Rose Wall Bouquet made its debut, but the surviving historical records suggest that it sent a minor shockwave through the art community. When Life hosted its unveiling in September 1971, the descriptive copy boldly invited spectators to
Imagine the beauty of glorious fine enameled hot pink, gentle baby blue, and brilliant canary roses poised in perpetual splendor on graceful, abundantly leafy cool green stems. 
While some people had seen enameled metal wall art before, neither reality nor their most intricate flights of fancy had prepared them for this. To be sure, it presented the copywriter with a unique problem: how to describe that which had never been perceived by human eyes. A full fourteen adjectives were required in the introductory sentence alone, and even those were insufficient. Afraid that patrons would likely assume this "symphony of multi-colored roses" was an illusion or a doll-sized curiosity, the copy clarified further:
We emphasize that these are not tiny miniatures but beautiful museum quality hammered decorator wall plaques that dominate over 3 full feet of wall space.
To modern ears, it might sound odd—even crass—to point out dimension so bluntly. But in the late 60s and early 70s, when the enameled metal wall art movement was still in its infancy, people had grown accustomed to runty, hastily crafted depictions of cardinals, orchids, and cats. Cynicism had taken root. Never before had a decorator plaque aspired to be "truly a colorful spectacle," let alone shoulder the complex task of "bringing springtime to the decor of any room."
So what accounts for Giant Metal Rose Wall Bouquet's relative absence from the annals of modern art? A cursory review of the Artforum archives turns up no entries on it, and the original artist's name has been lost to history, though his or her influence reverberates today in the lesser examples of rose wall art found in living rooms across America. The most popular theory is that this piece was forcibly suppressed from our collective memory after the Life magazine sales experiment careened into chaos.
Consider the perfect storm the Life announcement set in motion: it was released just months before the holidays at the remarkable price of only $3.98, unheard of for any contemporary masterwork that dominated over 3 full feet of wall space. Brilliantly, a 10-day no-risk coupon was attached, complete with cunning dotted lines to guide the purchaser's trembling scissors. Frenzy was all but inevitable—especially since the offer, as mentioned several times in the copy, would not be repeated that season. The announcement tried its best to level with art collectors, in a forthright let's-talk-turkey tone that rarely surfaced in a context like this:
Frankly, we expect supplies to go fast and many folks will want several to put away as gifts. To avoid disappointment, we urge that you order at once.
History is all but silent about the outcome of this venture; all that remains are scraps of anecdotal evidence. A friend of a friend's mother once told me of an incident in a Pathmark parking lot just before Christmas 1971, in which a Volkswagen window was shattered to remove a Giant Metal Rose Bouquet and a pack of Pall Malls from the back seat. Legend has it that in one Connecticut suburb, eight well-heeled wives sustained injuries in a savage tug of war over one bouquet, their jacquard blouses bloodied beyond repair. A rare copy of Giant Metal Rose Wall Bouquet, which I spotted on ebay for thousands less than its estimated value, still bore traces of blood on the "snow-white shell basket tipped in a kiss of rich gold."
After the consumer frenzy of 1971, not only was the bouquet withdrawn from the pages of Life, it was also withdrawn from the public eye altogether. It remains to this day an elusive find on Craigslist and flea markets, and a prime example of why we can't have nice things.
Have you had a Giant Metal Rose Wall Bouquet sighting? For the love of God, please report back. I will also accept remembrances of macramé owls, swag lamps, and latch hook rugs with rainbows and horses on them.
Category Uncategorized | Tags:
---