14
July 1, 2013 by J.C. Lillis
So a while back I issued a foolhardy promise at the end of this post: submit a vintage recipe more revolting than the Libby's Creamed Corn & Wiener Roast, and I would whip it up in my own kitchen and post the pictorial evidence here.
My Twitter pal Urb rose to the challenge with this truly repellent concoction from the 1969 Good Housekeeping, originally exhumed by the fine folks at Archie McPhee's Endless Geyser of Awesome. To answer a question no sane person ever asked, this is what Frosted Meatloaf looks like: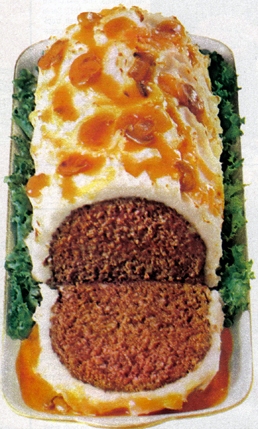 (You can see the whole ad over at Archie McPhee's; it also featured a meatloaf in bundt-cake drag, because it was the Summer of Love and even the entrees were countercultural.)
Anyway. Because I never break a promise, and because I have a guilty affection for foods many people find disgusting (meatloaf, lumpy Cream of Wheat, canned green beans, pudding skin), I agreed to make this. On a rainy Sunday, with my six-year-old happily parked in front of Little Shop of Horrors, I assembled the following ingredients on my countertop.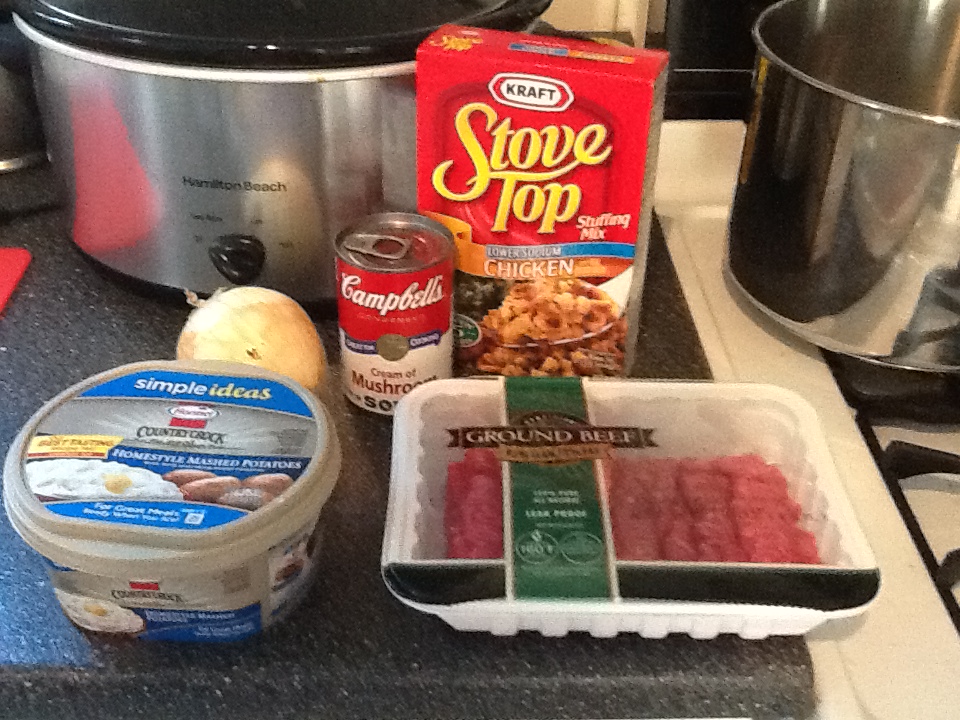 Already I was running into trouble. The recipe called for "Golden Mushroom Soup," but after a thorough investigation (i.e., five minutes in the Target soup aisle), I determined that such a thing no longer existed and went with Cream of Mushroom instead. Also, do you have any idea how hard it is to find "bread cubes"? Like, just regular, small, unseasoned cubes, not giant thumb-sized croutons with names like Scorchin' Jalapeno Blast or Cool Ranch Explosion. I bought Stove Top because it was as close as I could get, but of course there's no beef-flavored stuffing, so I went with the chicken flavor and tried to sift out the little spicy bits that allegedy make it chickeny.
Now the recipe says "Mix thoroughly beef, ½ cup soup, bread, onion, salt, and pepper." This is when the lack of Golden Mushroom Soup began to vex me in earnest, because I've made one or two meatloaves in my time, and not once have I ever been instructed to mix in something the consistency of tapioca pudding. I began to suspect this would not end well.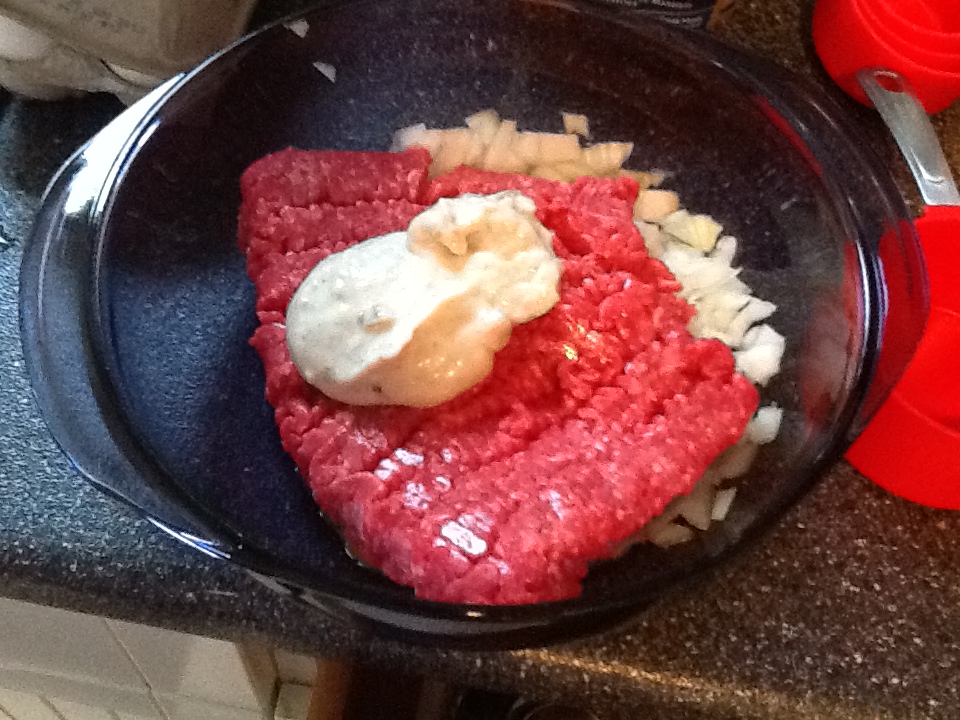 I forged ahead. I mixed. I followed the instructions to "shape firmly into loaf." When it was done, I regretted chopping the onions so coarsely, because the loaf—while firm—looked like something Scully would find in the closet of an X-Files villain seconds before being chloroformed.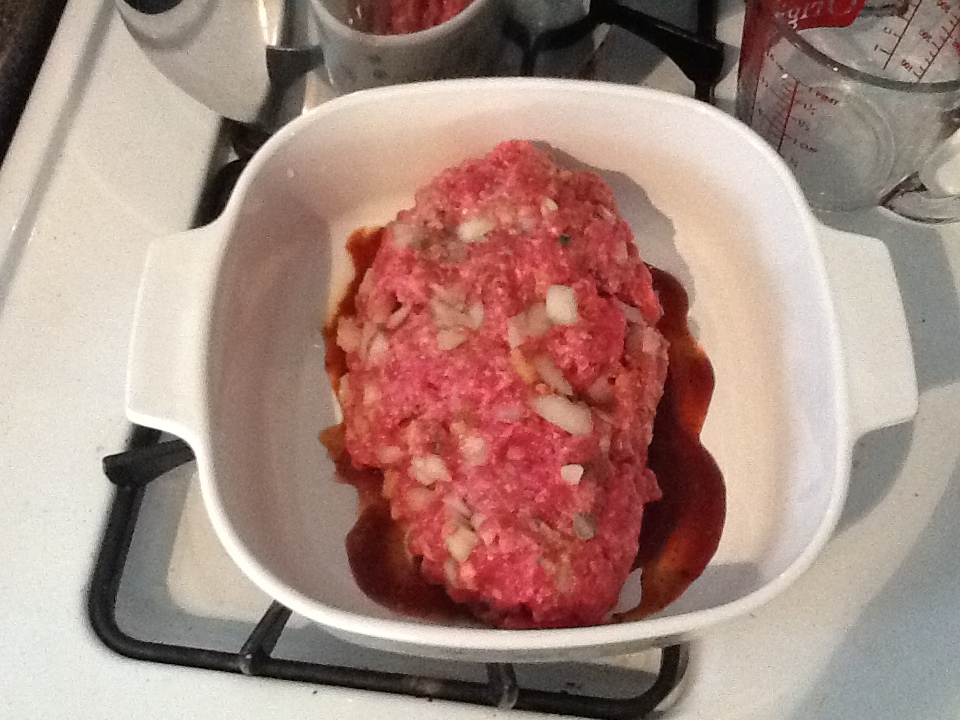 I would like to say it improved during its 60 minutes in the oven, but. . .yeah.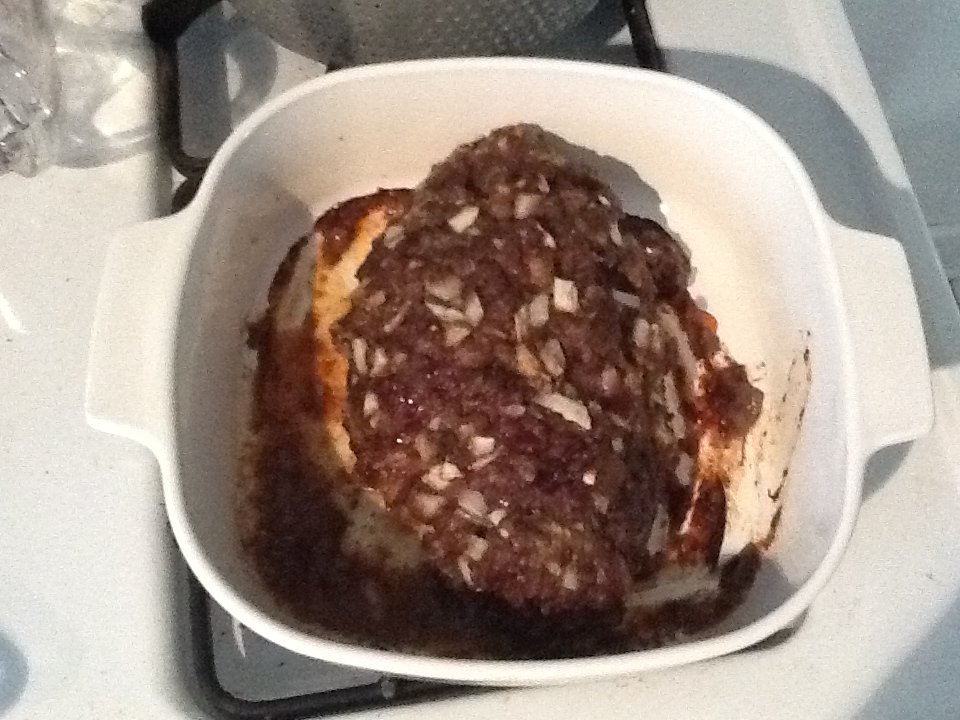 While a pound and a half of evil roasted meatily in its dish, I set about making the sauce for the top. Elegantly simple; just three ingredients: soup, water, and the ominous "drippings." Again, I regretted the absence of the Golden Mushroom Soup, because the recipe photo depicts a thin, Thanksgivingy gravy drizzled atop the frosted loaf, while my facsimile looks like it should be ladled over biscuits and chipped beef and ordered by a trucker with a death wish.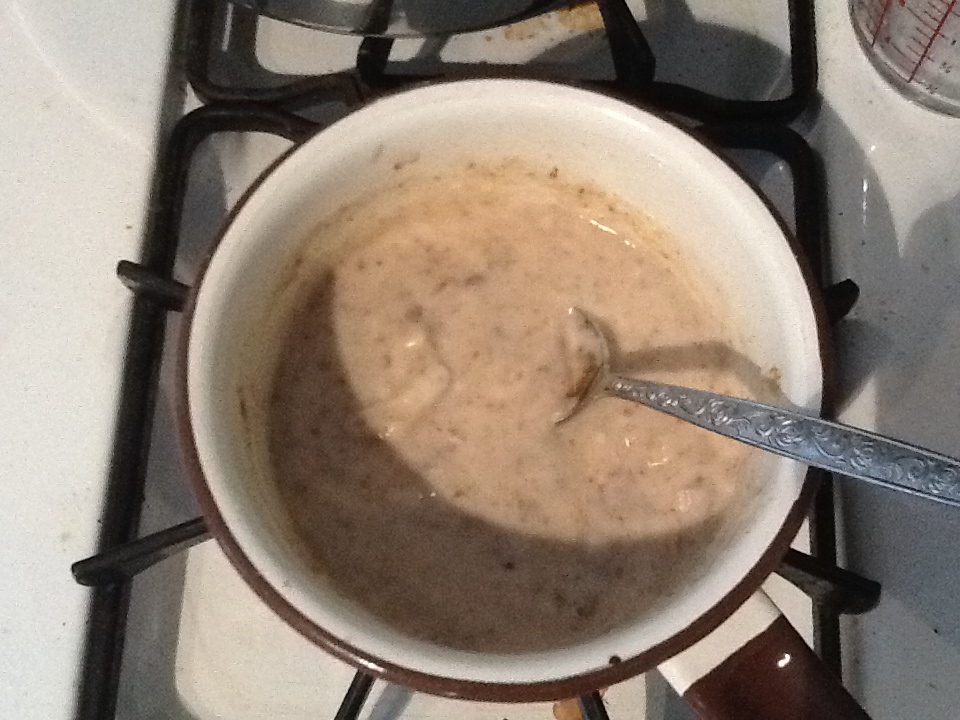 But whatever. I sense you're getting impatient, waiting for the money shot. FROST THE GODDAMNED MEATLOAF ALREADY SO WE CAN ALL GO HOME.
Tell me, little-used kitchen implements: who among you is up for the task?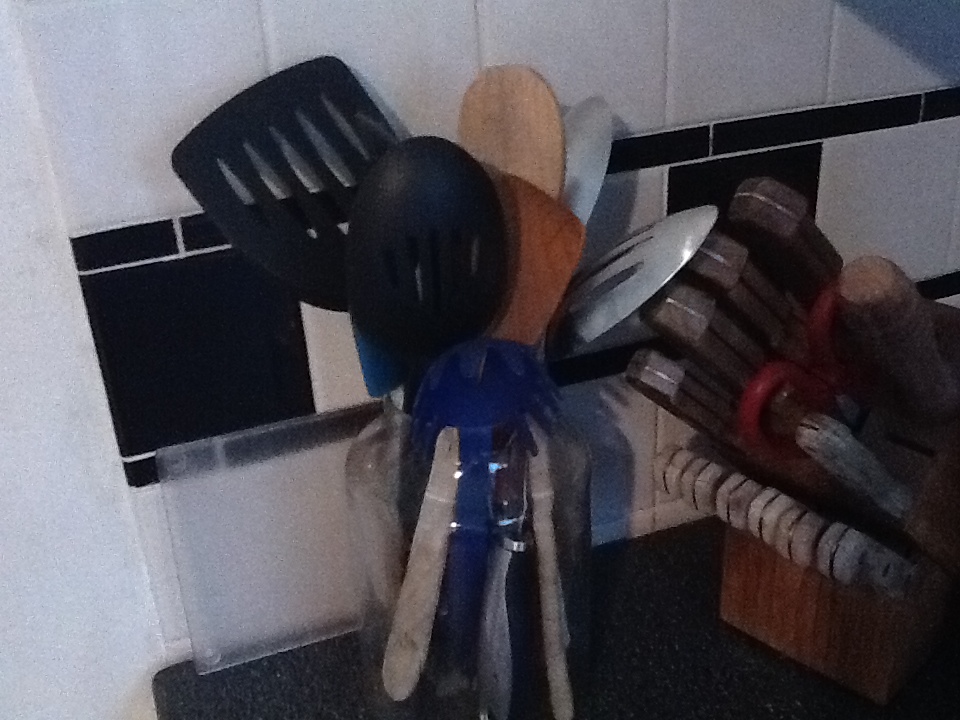 Only the brave little spatula came forward.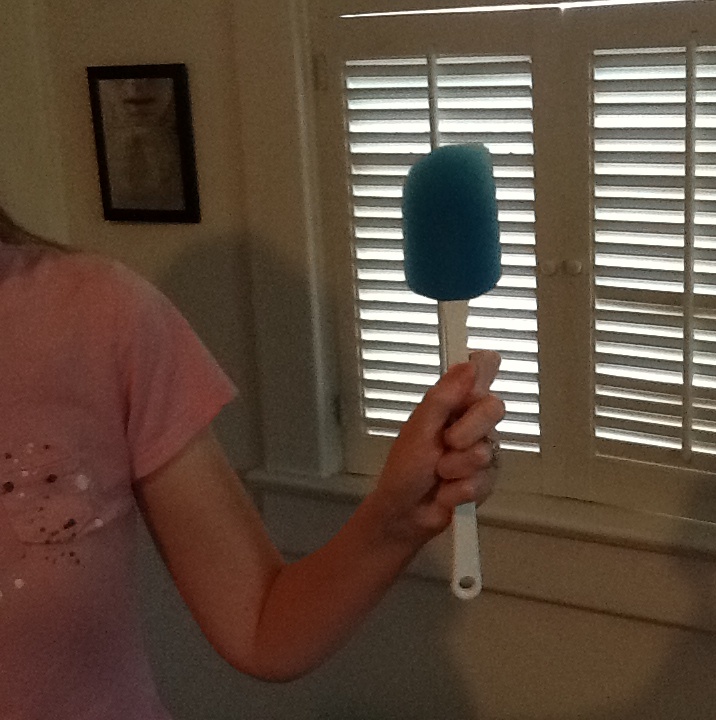 As soon as I popped the lid off the potatoes, guilt set in. The meatbomb looked angry. Sad. Could I really justify smothering it, too?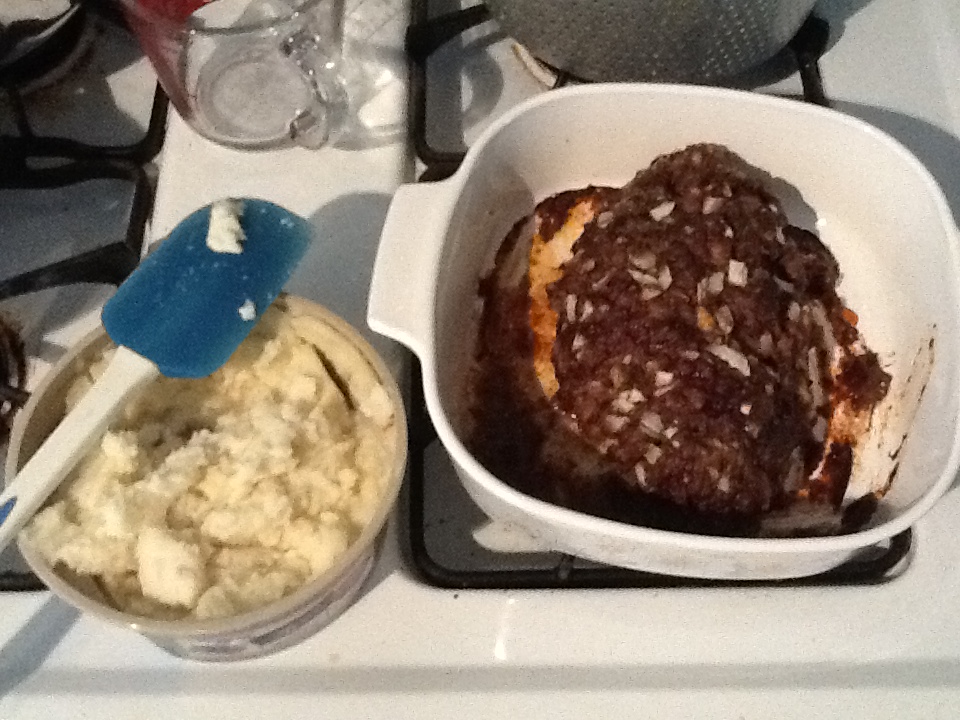 (Don't even talk to me about the potatoes. I know the Country Crock stuff was a copout. But seriously, if I ever got it together enough to make ACTUAL mashed potatoes on a Sunday afternoon, there's no way I'd be frosting a meatloaf with them.)
So, okay. Here goes.
The finished atrocity.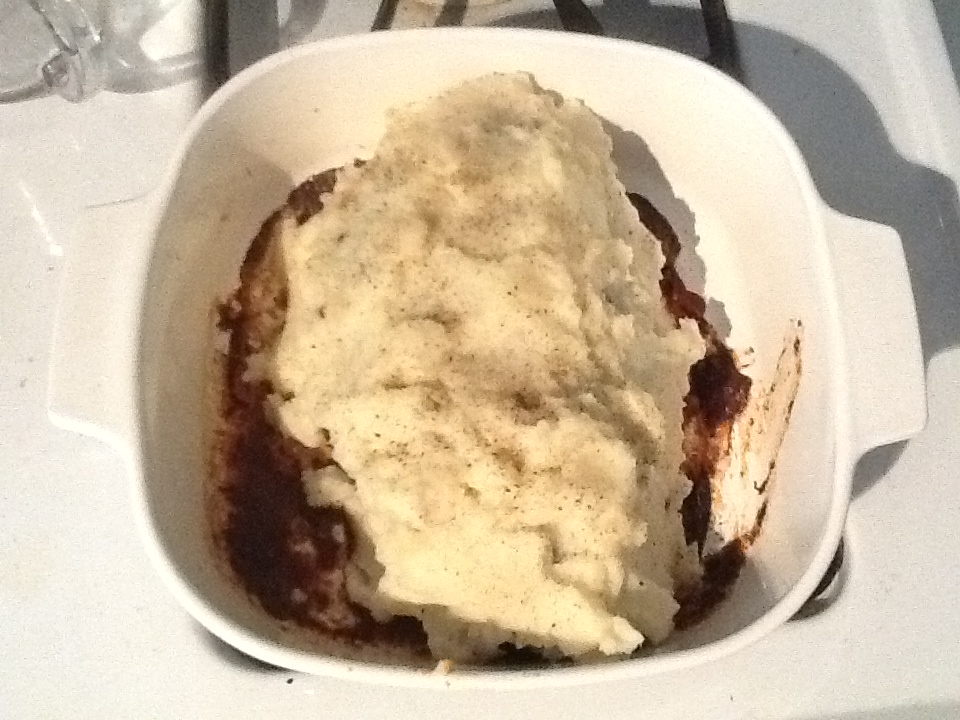 Yes, I ate it.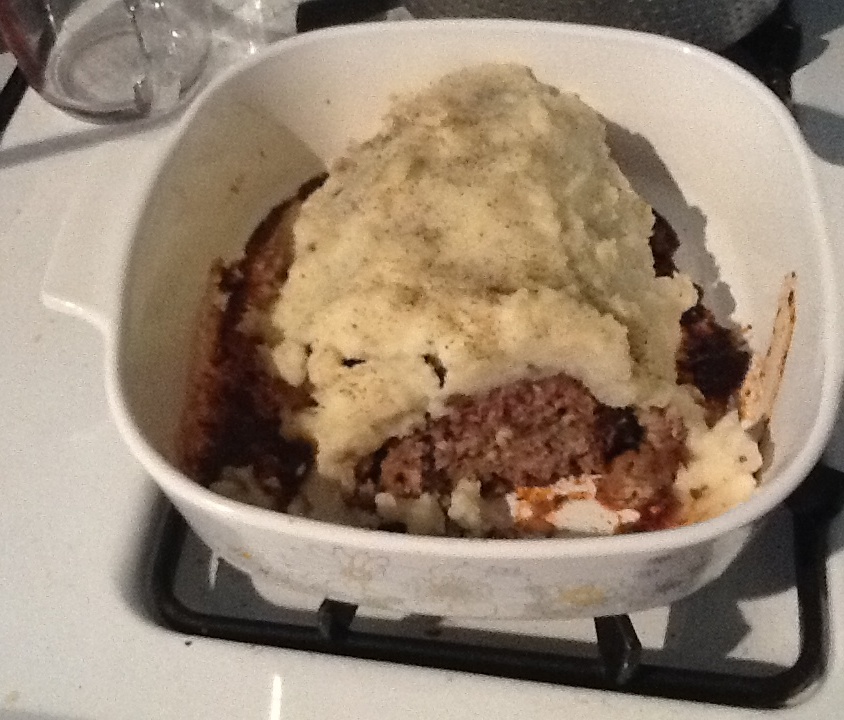 Honestly, it was okay. A little dry, and the soup-sauce was a Frankenhorror, but I found it pleasingly edible once I added the right proportions of garlic salt, pepper, and desperation. You would eat it too if you still lived like an international spy who changed her name every three months and the inside of your refrigerator looked like this: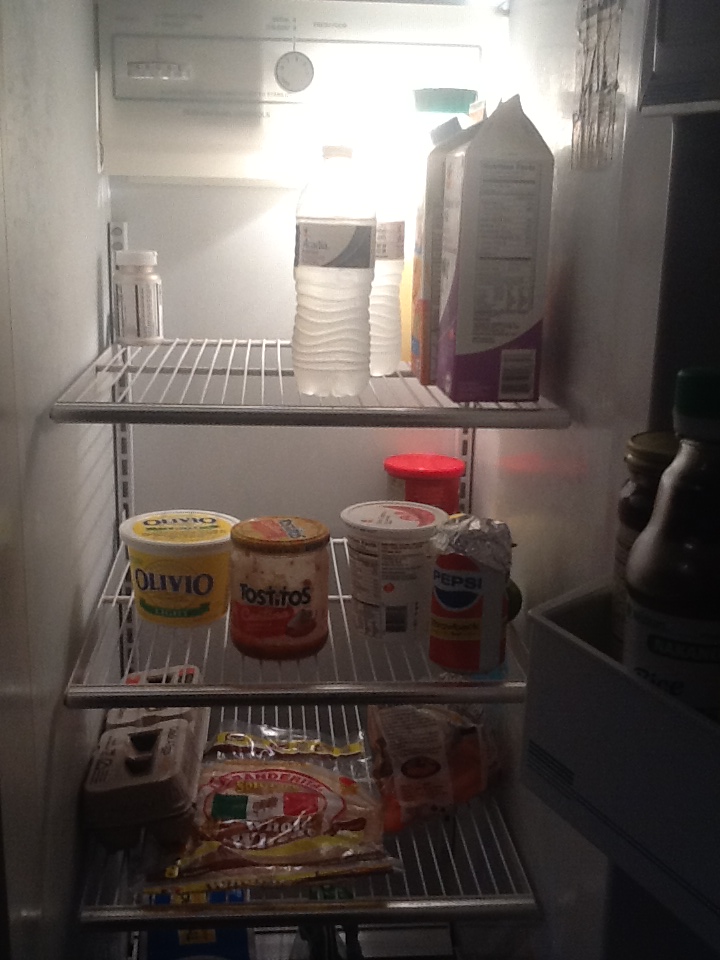 Thus endeth the Frosted Meatloaf adventure. Urb, love, I hope you're happy. Next time, I'm setting a place at the table for you.
And THERE WILL BE ASPIC.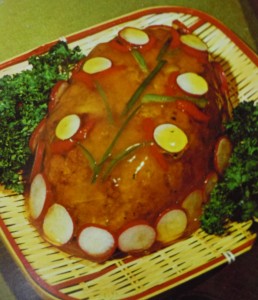 Category Uncategorized | Tags: blurgh, random retro riffraff
---