0
August 29, 2017 by J.C. Lillis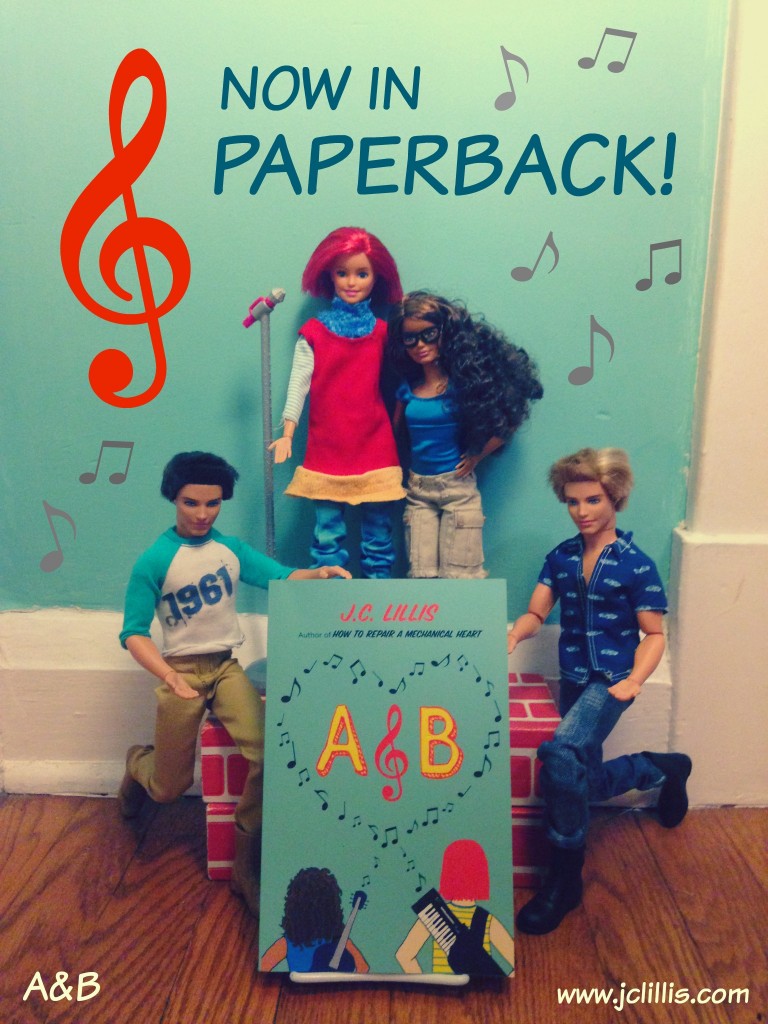 *removes 87 layers of cobwebs from blog*
*hires Big Bad Wolf to disperse dust*
*hits "New Post" button; hears sinister creeeeaaaaaaaaaaak like an attic door being pried open after eight months of the Trump administration, which is 97.6 years in regular human time*
*considers posting an Honest Post about how depression, panic attacks, news addiction, health anxiety, and frantic bibliotherapy conspired to keep me from updating the blog for more than half a year*
*decides to skip it and posts this instead, because what's done is done and every other person has a similar why-I've-been-hiding-under-my-bed-for-months story right now, so HELLO, I AM BACK FOR NOW, AND HERE IS SOME GOOD NEWS*
A&B is now out in paperback!
If you haven't read it yet, it's an f/f YA about the rivalry, friendship, and eventual smooching of Barrie and Ava, two funny and weird and super-ambitious singer-songwriters. They start out vying for the final slot on a TV competition, and after poetic guitar-slinger Ava beats the pants off aspiring pop queen Barrie in chapter one, they end up falling into a strange collaborative relationship neither one of them expected. It deals with professional jealousy, the saving power of music and fandom, the push-and-pull of creative collaboration, the joys of choosing your own family when yours sucks, and the question of whether you need to suffer to make good art (spoiler: you do not). Oh, and Brandon and Abel from How to Repair a Mechanical Heart are back with a big subplot! They're ten years older and still haven't figured their shit out, but (spoiler again) I'm pretty sure Team Abandonites will be happy with where they end up.
Here is a photo of Plastic Barrie and Plastic Ava, who will hopefully join Plastic Brandon & Abel on all kinds of plastic adventures in Abel's new convertible: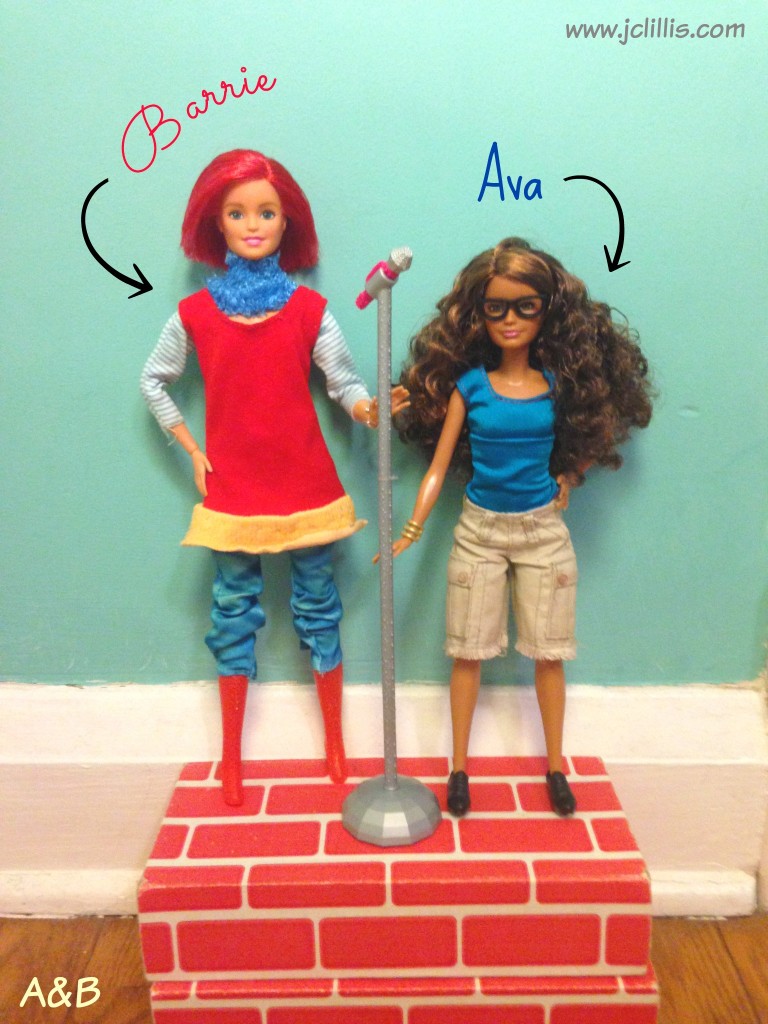 Here's what they have to say about the paperback:
"Holy WOW it's so bright and shiny and colorful and man, look how good we look on the cover! 11 out of 10 stars!"—Plastic Barrie
"It's definitely made of paper."—Plastic Ava
And here's what a couple bloggers had to say about A&B:
"Delightfully heartfelt and laugh-out-loud funny."—Rita, Just Love Reviews
"It's rare to find a book that's happy and hilarious while also being meaningful. A&B is both a fun romance between two very different girls and a story about letting go of your bitterness."—Elise, thebookishactress blog
If you want the paperback for your bookshelf, you can order it right here! Thanks, and hopefully I'll talk to you again before May of 2018.
Category A&B, happy happy, Plastic Brandon & Abel | Tags:
---