3
January 26, 2013 by J.C. Lillis
So this week I was nominated for a Very Inspiring Blogger award by two ladies I very much enjoy:
Thanks, ladies!
I like these fun pay-it-forward award thingies because I get to fill out a little questionnaire in the silliest manner possible and then spread the word about some bloggers I really love. If you haven't seen one of these before, here are The Rules:
1. Display the award logo on your blog. Okay: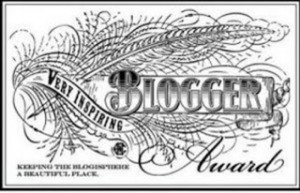 2. Link back to the person who nominated you. (Done, up above.)
3. State 7 things about yourself. (See below. The rule-makers really should have been more specific, because 7 "THINGS" just opens up an entire universe of possibilities and I had to toss out the first 758 things that came to mind, like how I love the word "machete" and rock the mic like a vandal.)
4. Nominate 15 bloggers for this award and link to them. (Full disclosure: I've only been blogging for four months and when you say the words "free time" to me, I'm liable to blink at you as if you'd just recited The Love Song of J. Alfred Prufrock in backwards pig Latin, so I haven't had a chance to explore all of these blogs in great depth. But I can testify that all of these folks are awesome on Twitter, and it is pretty hard to be awesome on Twitter, so check 'em out!)
5. Notify those bloggers of the nomination and the award's requirements. (EVERYONE LISTED BELOW: You won't have 7 years of bad luck if you don't do this. Think of it as a small weekend hug.)
Okay, here are my 7 things:
1. I've been a hypochondriac since junior high. In the past 12 months, I have diagnosed myself with 5 deadly diseases, including rabies and foot cancer.
2. I'm fascinated by Jetsons-style retrofuturism. When I opened my first Twitter account, I styled myself as a retrofuturistic etiquette maven and gave advice like this: Robot cooks should be serviced before any formal dinner party; many an evening has been spoiled by a stray nut or bolt in the consommé.
3. I collect argyle socks. These are my favorite: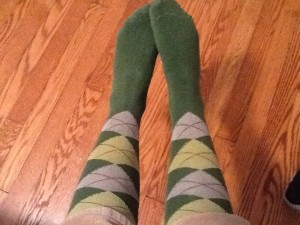 4. I memorized this Lee Press-On Nails commercial as a kid and can still recite the entire thing by heart:
5. I have never opened a jar, a locked door, or a pill bottle successfully on the first try.
6. I have three very beautiful pairs of matching pajamas, but I only wear them when we have overnight guests because I can't bear to watch them get nubbly and grungy from repeated washings.
7. When I was a kid, I made my own muppets out of craft fur and dreamed of working for Jim Henson. I once choreographed an elaborate routine with two of my muppets lip-synching "That's What Friends Are For."
And here are my 15 nominees:
Joyfully Jay (m/m book blogger and VERY avid reader—3-5 books a week, whoa)
Christian Frey (delightful writer, cartoonist, grammar geek. I love the Overheard in a Coffee Shop comic on her main page right now!)
Red Tash (author of wildly original dark fantasy. Also fun & hilarious person in general.)
Jennifer Kathleen Gibbons (author who blogs about books, Jan Brady, Gilda Radner, Encyclopedia Brown, and other enjoyable things)
Jordan L. Hawk  (author of m/m paranormal romance)
Tara Allen (sweet and delightful Twitter creature. She is snarky but never punchable. Her first book comes out in 2013)
Lydia Sharp (YA author; check out her neat posts on story structure!)
David E (book blogger at The Gay Reader)
Laura Rodriguez (book blogger at The LLs Word)
Cole Riann  (book blogger at The Armchair Reader. Also a baking/knitting enthusiast.)
Jessica Gunhammer (runs the NEW YA book blog Limitless Library—go check it out!)
Megan Cooley Peterson (cool writergirl with 3 books in the works)
Trisha Schmidt (new blogger, working on her first YA novel. She's got some ambitious goals for 2013, so follow her and "see Red write.")
Amber West (writer, rogue photoshopper, TV blogger, photographer—girl does it all!)
Bethany Myers (writer of YA. Lover of vintage jewelry and designs in her cappuccino.)
TIRED NOW. Being inspired by people is exhausting. Now go visit some new blogs!
Category Uncategorized | Tags:
---